Yesterday and Today's CDs
Yesterday's CD was:
Desde un Principio
is probably one of my top 5 favorite CDs ever. I usually frown on artists doing a "greatest hits" cd when they haven't been around that long, but this one is actually filled with Anthony's "Greatest Hits" that he'd had to date, and they're all good.....except for the song he did with Jennifer Lopez. And I like her. Truly. I just don't think she can sing. Is that so wrong? My favorite song? #14
Preciosa
. I've heard it called the "unofficial" Puerto Rican national anthem.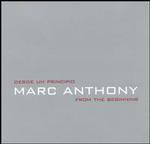 Today's CD:
Valió La Pena.
I don't know how anyone can listen to this CD and not want to get up and dance. Difficult, but not impossible, when you're in the car. This CD is a re-working of an ill-fated (and kind of unfortunate, really) foray into Spanish pop by Marc Anthony. The original album,
Amar sin Mentiras
,
was just not that good. But, re-worked into his native musical language (salsa) its much better. Not my favorite of Marc's CDs (that honor goes to
Contra la Corriente
) but still good.